Customer Service: 949-943-0091
Customer Service 949-943-0091 | Hours: M-F 7AM - 6PM PST. Email Us

Print on Waterproof Paper
Print waterproof flyers, postcards, door hangers and business cards on 10pt waterproof card stock in several sizes. 
Waterproof is a truly unique product consisting of special materials that make it water proof, resilient, and give it a durability that will last for many years. Waterproof gives your customers the ability to get maximum exposure out of each card. They are great for restaurant menus, emergency services, insurance cards, business cards and many other creative ideas. Waterproof is a 10pt thick stock which has the feel and body of our 100lb paper stock. For samples, please request a sample kit from our product list.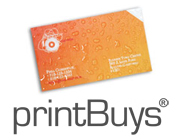 Printbuys is an industry leading provider of color print media products.