Customer Service: 949-943-0091
Customer Service 949-943-0091 | Hours: M-F 7AM - 6PM PST. Email Us

Print Greeting Cards & Business Christmas Cards
Print greeting cards and business Christmas cards that can be customized for your business on the highest quality paper. Print custom corporate Greeting Cards that can be personalized thank you cards, birthday cards, Christmas cards, and an invitation to your grand opening or party. With limitless possibilities get the word out there with these remarkable Greeting Cards. We print these greeting cards on 100lb Cover weight, 14pt and 16PT card stock, Linen and Silk at 8.5 x 5.5" and 5" x 7".
NOTE: Blank envelopes on 70lb Premium Uncoated Text with and without inside foil are now available as an option with Greeting Cards. Additional envelope options are available in the Envelopes category.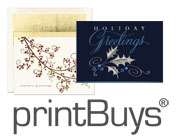 Printbuys is an industry leading provider of color print media products.