Customer Service: 949-943-0091
Customer Service 949-943-0091 | Hours: M-F 7AM - 6PM PST. Email Us

Print Rack Cards
Print Rack Cards on heavy 16pt (16 point) and 14PT (14 Point) card stock, 100lb cover (.007), 20PT Plastic and 10PT Waterproof with many coatings and sizes.  
Rack Cards are printed with the following coatings: uv gloss, matte / dull finish, spot uv, metallic foil, no coating, silk laminated, holographic, aqueous, plastic, uncoated and water proof.  
 Print Rack Cards are printed on premium quality card stock. Use Print Rack Cards to reach new markets, maintain contact with customers, or thank and reward loyal customers.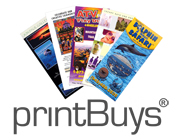 Printbuys is an industry leading provider of color print media products.