Customer Service: 949-943-0091
Customer Service 949-943-0091 | Hours: M-F 7AM - 6PM PST. Email Us

Print Silk Cards
Print Silk Laminated Postcards and Business Cards on 16pt (16 Point) Card Stock with the option of Spot UV Gloss on several sizes.
Silk Laminated cards are new in the market and have elegant and unique texture. They come in 16PT full color options and are laminated with special material that gives the cards a very pleasant Silky texture.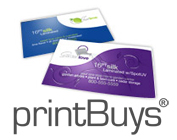 Printbuys is an industry leading provider of color print media products.