Customer Service: 949-943-0091
Customer Service 949-943-0091 | Hours: M-F 7AM - 6PM PST. Email Us

Print Plastic Cards
Print Plastic Business Cards, Plastic Bookmarks and Plastic Postcards on 20PT ( 20 Point ) Plastic Stock comes in Clear Plastic, White Plastic, Frosted Plastic in sizes 2 x 3.5", 2 x 8", and 4.25 x 6".
Plastic Cards are a great way to put your business in the lead! They offer thousands of practical and promotional applications with a huge market. We are able to offer Plastics at super prices.  Plastic Cards are very durable and printed on 20PT Plastic Opaque White, Frosted, and Clear stocks. With these cards, sky is the limit!
Please note when designing, Frosted cards are transparent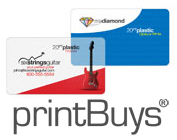 Printbuys is an industry leading provider of color print media products.