Customer Service: 949-943-0091
Customer Service 949-943-0091 | Hours: M-F 7AM - 6PM PST. Email Us

Print Stickers
Print Stickers with UV Gloss or Metallic Foil with UV Gloss or No Coating on 70lb label stock in the shape of squares, ovals and round in several sizes.
Stickers are one of the most versatile products we offer. Printed on premium 70lb. label stock, looks great and is very durable. Stickers are not intended for outdoor use.
Note: For Oval and Round stickers please see the template section on our Support  page.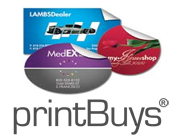 Printbuys is an industry leading provider of color print media products.